"There are only two kinds of talent worthy of identification: one that you find [if you are very lucky] within yourself…and two, the talent to surround yourself with talent. Of the two, the only one I am confident that I possess in abundance is the second." -Chuck Jones
Finding and sharing animated works of heart that scratch the weirdest itches in the human brain has always been a major part of Open The Portal, as important to us as the work we produce ourselves. When we first opened our studio doors in 2015, we did so as great admirers of the many unsung sorcerers of the stop motion world, and decided early on that we would host screenings as often as possible to share our favorites and watch them together on our homemade big screen with a live audience. Our friends at GLAS (www.glasanimation.com) helped us put together our first show, "The Purple Curtain Stop Motion Screening," on May 27th, 2016.
Being that we have been unable to host live events in 2020, we decided that this would be the perfect time to share these special screenings with you to watch from home. We are happy to report that in the years that have followed beyond this screening, we have had the opportunity to collaborate with many of these virtuosos of psychic (or psychotic) creative energy behind the animated films that make up the program, many of whom are working with us on our first animated pilot at this very moment.
Please enjoy "The Purple Curtain Stop Motion Screening."
Part I: New Classics
1. Misha Klein – "Fred"
2. Mark Osborne – "More"
3. Tennessee Reid Norton – "The Lizard Whomper"
4. Helder K. Sun – "Lint People"
5. Rich Zim – "Birdhouse"
~Intermission by Billy Burgess, Max Winston, and Janelle Miau~
Part II: New films
1. Ainslie Hendersen – "Stems"
2. Steve Warne – "Pombo Loves You"
3. Quique Rivera – "Uni's Adventures on the Moon"
4. Max Winston – "Total Reality"
5. Kasia Nalewajka – "Pineapple Calamari"
6. Grace Nayoon Rhee – "Unicorn"
7. Calvin Frederick – "Hangin' With Mr. Kuper / NEIV"
8. Kangmin Kim – "Deer Flower"
Poster autographed by the filmmakers hanging up in our LA studio: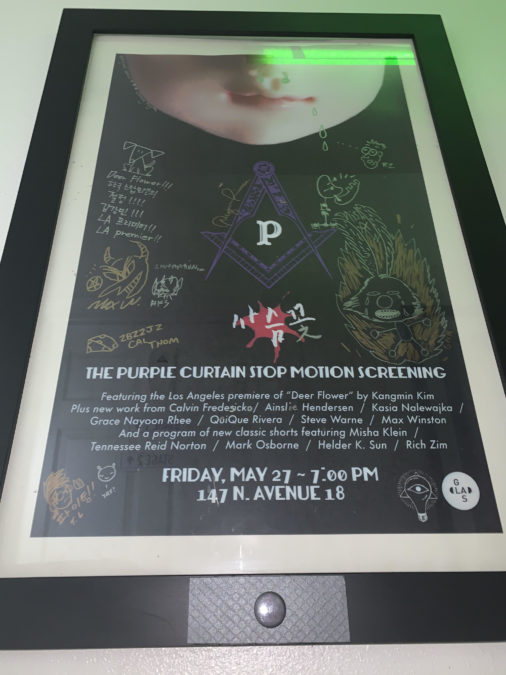 See if you can find the moth stuck in the glass!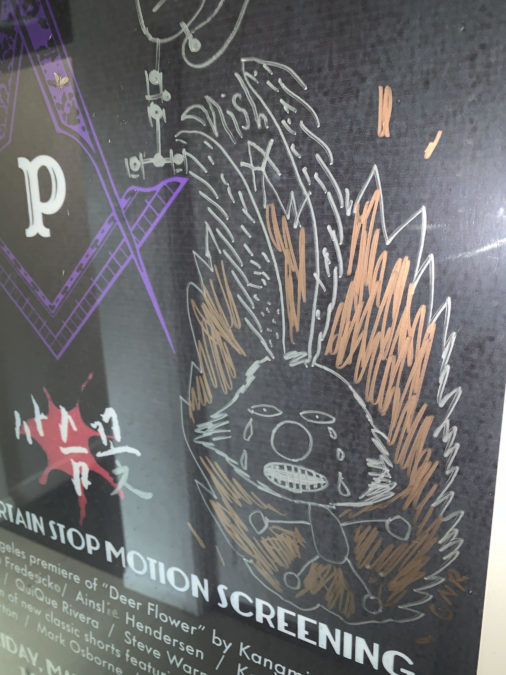 Stay tuned for more digital Purple Curtain screenings to come.